YOU ARE IN CONTROL
The user-friendly and customisable Tydom application will make your life easy.
Heating, shutters, lights, alarm, gate, garage door, etc. You can control the systems in your home via your smartphone or tablet with Tydom from anywhere.The Tydom application is free and requires no subscription.You will need to install a Tydom 1.0 or Tydom 2.0 home automation box to use it.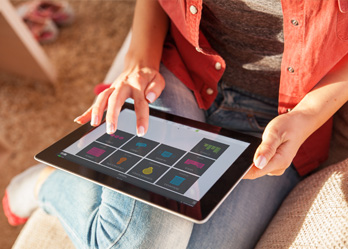 LIVE YOUR LIFE THE WAY YOU WANT TO
With Tydom, your wish is your command
- Do you wake up at 7? Synchronise your roller shutters with your alarm clock.
- Do you have to leave the house for work at 8.30? Programme the lights to go off and the alarm to go on.
Favourites, create personalised scenarios...Tydom offers a wide range of features to adapt your home to your lifestyle.
CONNECT YOUR SYSTEMS
Tydom controls your Think Big systems as well as other equipment in your home.
Many products you use on a daily basis are already Think Big Connected . They are directly compatible with Tydom and can be connected and controlled remotely. Our teams work in conjunction with major brands to give you access to the connected home by Think Big.
CREATE YOUR CONNECTED HOME
Think Big Smart Home helps you with your project.
With Tydom, there are no constraints. You decide and upgrade your systems as you wish.Contact us for further information about how to install products and the Tydom home automation solution.